Oh Katherine Applegate! I have a box, a bag, a blog post full of words for you and they all the kind ones. You are such an extraordinary writer who makes me fall in love with words over and over and over. You see, when I found out that Katherine Applegate just published a book, I knew I'd need a whole day free, a stack of flag sticky notes and time to devour and digest every empowering phrase or words she uses in her books.
When she published the book
Home of The Brave
a couple of years ago, I knew I had to share her work with my students because I can't keep all that beauty to myself. A piece of work like that was meant to be shared and read by many people, to get lost in the conversations that would arise with each page, each chapter. Indeed, that is exactly what happened when my Fifth Grade ESL class read Home of the Brave during Literature Circles a couple of years ago.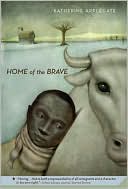 Years later, Katherine Applegate brought us another book. It is with excitement that I repeat the process when I get ready to read one of her books: a whole day free for reading, a stack of flag sticky notes, and time to devour and digest every word. That's what happened today when I finished reading
The One and Only Ivan
, her latest work.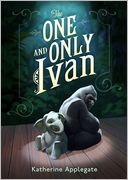 The best of it all...t
his book didn't disappoint
. The best of it all...get ready to fall in love with the characters, with their struggles, with art, with freedom, with life. Katherine Applegates delivers a wonderful fictional work inspired on some true events. This story it's about Ivan, a gorilla who only knew one life, the one he had at the Exit 8 Big Top Mall and Video Arcade. His life consisted of his good friend the elephant named Stella and a stray dog named Bob. But what makes Ivan different in more than one way is his love for art, paint and details. But life changes when Stella get sicks and with the arrival of Ruby, a baby elephant. With a loss and an arrival comes new possibilities for these animals who has never seen the world behind their cages. Art, love, compassion, friendship and freedom are all themes that this novel entails all while beautiful language and life messages are woven in between.
Here are some of the beautiful language captured (thanks to sticky flags that makes it easy to go back to them)...
"Memories are precious," Stella ads. "They help tell us who we are. Try remembering all your keepers"."p.53
"I like colorful tales with black beginnings and stormy middles and cloudless blue-sky endings." p. 63
"I've never asked for a promise before, because promises are forever, and forever is an unusually long time. Especially when you're in a cage." p. 101
"I was born in a place humans call central Africa, in a dense rain forest so beautiful, no crayons could ever do it justice." p. 123
It's beautifully written and the story will win your heart. I can guarantee you that much. That's what a great book does to you! Happy Reading and Enjoy the journey!
Stella