My friends know that I have a weak heart for Poetry. My knees soften when I hear words embedded in one another. I love reading Poetry, I love listening to it. I love Poetry for children and Poetry for Adults. I love Poetry in Spanish and most definitely Poetry in English. So when I went to the library to pick up my "Reserves" and I see a beautiful line of poetry books with my name on it, I know I'm in for a treat.
I'll start with
Here's a Little Poem: A Very First Book of Poetry
collected by Jane Yolen and Andrew Fusek Peters. So imagine having these friends over one evening: Myra Cohn Livingston, Nikki Grimes, Rosemary Wells, Jack Prelutsky, Paul B. Janeczko, etc. And they all decided to spend the evening with you. If you are a poetry lover, you know what this means. It means hours and hours of pure magic and entertainment. It means reading about August Ice Cream Cone, about Brothers and Sisters, and chicks, and birthday cakes too.
On top of having some of the best poetry for children out there, Illustrator Polly Dunbar just tops it off with the illustrations giving it that perfect touch of a "first poetry book". If you start reading poetry aloud to your children and students with a collection like this, you're set. A new poetry lover will be born. Guaranteed.
The next book in the pile is Take Two! A Celebration of Twins by J. Patrick Lewis and Jane Yolen. Now, one good look at the cover and you know you are set with great language, sounds of words, rhythm and play for the next hour. I'm a big fan of both authors so when I know I'll get to enjoy their creativity all in ONE book, it's imperative that my hands get on this book right away.
What makes this book EXTRA fun is the collection of facts on twins spread all throughout the book. For example, did you know that there are about 125 million living multiples in the world? or that since 1970s, the number of twin births has more than doubled? Fascinating.
Forgive Me, I Meant to Do It: False Apology Poems
by Gail Carson Levine Illustrated by Matthew Cordell. First of all the table of contents is pure fun. The design is fantastic, playing with fonts and style. All the titles are the same: This is just to say. But each title is presented with different fonts. One of my favorite poems is told from Little Red Riding Hood's grandma perspective. It goes like this....
This is just to say
When you arrive
I will not be
lying in my bed
where
you hungrily
hoped
to find me
Forgive me
tell my granddaughter
better one of us
should live.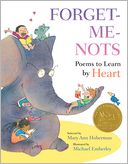 When you open this book, you'll read the following words in the front jacket:
"When you learn a poem by heart, it becomes a part of you. You know it in your mind, in your mouth, in your ears, in your whole body. And best of all, you know it forever." Isn't this such a clever way to start reading this book. It's so true. I've always admired authors when they can recite poems by hearts. I'm mesmerized by the rich language and the possibility of so many more poems being inside your brain. Forget Me-NOTS Poems to Learn by Heart selected by Mary Ann Hoberman is an incredible collection, a must-have. As many of you remember, Mary Ann Hoberman was named Children's Poet Laureate in 2008 and her works had made many contributions in the world of poetry. Carefully selected, each poem is a celebration of some sort. In these pages, you'll find many poetry friends and some of the best classics as well, like Love That Boy by Walter Dean Myers.
Enjoy the journey friends...because with poetry in your hands, your journey is a roller coaster ride of emotions. So might as well put your hands up in the air....