August 10 for 10 Picture Book Event! I look at the name of this event over and over and I think, "What is there not to LOVE about this?" I'm so excited to join my friends Cathy at
Reflect and Refine: Building a Learning Community
and Mandy at
Enjoy and Embrace Learning
in their Third Annual Picture Book event. I'm sorry for my long to-do list for today...it had to wait. This event is way cooler, and much more fun than any item on my list anyways!
This summer I decided to read a lot of biographies. Even though I love biographies, I really need to make a bigger, more intentional effort to bring more biographies into my classroom, my life, and my students' lives. It was my challenge for this summer, and a challenge I expect myself to carry it through for this academic year. Since I work with ELLs, when reading biographies, I consider things like language, pictures, layout and organization in a book.
Here are TEN Picture Book biographies that I discovered and loved. Some of them were discovered this Summer of 2012 and others were discovered earlier this year.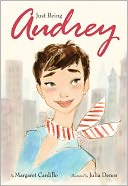 I believe that if Audrey would have seen this picture book, she would have totally approve it. This picture book has the elegance and unique style that Audrey would've appreciated. Authors Margaret Cardillo and artist Julia Denos pay tributte to an icon known for her delicate style in this book entitled
Just Being Audrey
. However, this book highlights her life offscreen starting from childhood, and her work with UNICEF helping children around the world. The elegant illustrations compliment this book so beautifully. Written for children ages 4-8.
Bill the Boy Wonder The Secret Co Creator of Batman by Marc Tyler Nobleman and Illustrated by Ty Templeton is an AMAZING book. I was totally suprised by the work done by the writer. Told in a graphic novel format, this book narrates a fascinating story about a man behind the world known legend comic heroe. Bill Finger was THE person behind the creation of BATMAN but someone else was taking all the credits. Bill, a humbled man who was just grateful to get a good job, didn't claim or fought for something that clearly belonged to him. Like a true heroe, he was just excited to be part of a world legend. I can't tell you the rest of the story but I can assure you it's a fascinating one. Written for children ages 8-12.
As many of you already know, I'm a big fan of the Mexican Painter, Frida Khalo. So you could imagine my excitement when this summer I've discovered
Me, Frida
by Amy Novesky and Illustrated by David Diaz. This book is a Pura Belpre Honor Book and this particular picture book focuses on one moment in Frida's life. When she arrived in San Francisco with her husband Diego Rivera, Frida has a real hard time leaving her home in Mexico. This book narrates Frida's discovery in San Francisco. Told through the colorful illustration of David Diaz, this book matches Frida's life as a painter beautifully. It's full of vibrant colors just like her artistic work. Written for children ages 4-8.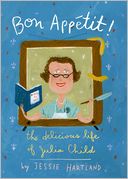 Oh the delicious life of Julia Child!
Bon Appetit, The Delicious Life of Julia Child
by Jessie Hartland is a also another colorful celebration of the famous Chef Julia Child. Told through pictures of all sizes, using panels and cartoon storytelling style, this picture book will keep your readers busy, entertained and fascinated with all the beautifully illustrated pictures, speech bubbles and details. A pure FUN book to read for sure. The subtle colors used in the illustrations help not to become overwhelmed. Written for children of all ages. I particularly recommend children ages 9 and up.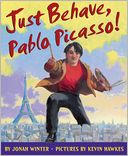 J
ust Behave, Pablo Picasso
by Jonah Winter tells a fascinating side of the vibrant life of world-known painter Pablo Picasso. He was loved and admired all around the world. His paintings made people stared in awe and always asked for more. But what happened when Pablo painted something the world did not accept? Did he change his work? Did he only want to please people? Did he find a way to remain himself in a world that keeps demaning more from him? Read and find out. Written for children ages 4-8.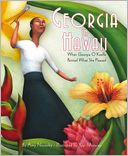 Following a similar style to the book Just Behave, Pablo Picasso, this particular picture book celebrates another painted: Georgia O'Keefe.
Georgia Hawaii
is written by Amy Novesky. This book also concentrates on one particular moment in Georgia's life. The Hawaiian Pineapple company invited Georgia to Hawaii to make paintings of pineapples. However, did she paint what they wanted? Did she paint what inspired her? Yuyi Morales' illustrations will take your breath away. Absolutely gorgeous. Written for children ages 6-9.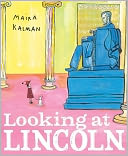 I've been following the work of Maira Kalman for a long time. I admire her artistic style. Imagine my surprise when she decided to make a picture book for children,
Looking at Lincoln.
When I discovered this book earlier this year, I read it to my Third Grade ELLs and let me just say...it created a sequence of events that would lead us into a deep study of Abraham Lincoln. All because of this picture book. Told in a style only known as Maira Kalman, the life of Abraham Lincoln come to life and make you thirsty for more learning, more details, more life!
Oh Pablo Neruda. The world needs to know about your work! I'm so pleased to see that there is a picture book about his life so children around the world can learn about him, his love for words, his mark in the world.
Pablo Neruda, Poet of the People by Monica Brown
tells the story about this poet who at age 16 started publishing his poems about the things he loved, the joy he found, about Chile and his struggles. All through the power of words. Written for children ages 6-9.

Dave the Potter: Artist, Poet, Slave
. The title of this book was enough to capture my attention the first time I saw it, wouldn't you say so? Written by Laban Carrick Hill and illustrated by Brian Collier, this book is dedicated to artist and picture book lovers everywhere because "this story is really about the power of the human spirit, artistry and truth, and that can not be silenced by bondage of any kind." Isn't this dedication just a beautiful portrait of words? Well, the rest of the book is no disappointment. Told in a poetic way, this story shares the life and work of an enslaved potter in the 1800s in South Carolina. The details of his work, the dedication, love and appreciation despite his life as a slave is an inpirational story for sure. Written for children 5-8.

Harry Houdini, The Legend of the World Greatest Escape Artist
by Janice Weaver and illustrated by Chris Lane. The mood in this picture book definitely matches the mysterious, at-risk life of Harry Houdini. The book contains some photographs but also some amazing, sepia style illustrations that gives this book the perfect mood. From his birth to his death, this biography includes all the most important events in his life. You'll feel like you are reading a fascinating scrapbook of his life. Written for children ages 8- 11.